Sustainability
We consider climate change to be one of the greatest global challenges of our time. The careful use of resources and the reduction of CO2 emissions must be a central concern of ours if we want to leave the earth to future generations as we know it.
In order to meet this challenge, we have defined and implemented sustainability goals in the various areas of our business area
• SUSTAINABILITY in DESIGN, PRODUCTION and RENTAL
Sustainability starts with design. The use of resistant, long-lasting materials, a high-quality construction, the availability of spare parts on site and simple repairs, a sophisticated, modular transport system, the complete avoidance of table linen - contemporary, resource-saving design must guarantee all of this.
EVENTWIDE furniture is manufactured and processed exclusively for EVENTWIDE in selected workshops in the Czech Republic, Slovakia, Germany and Austria. In this way, we not only guarantee the consistent quality of our rental furniture but also a transparent development process for our products.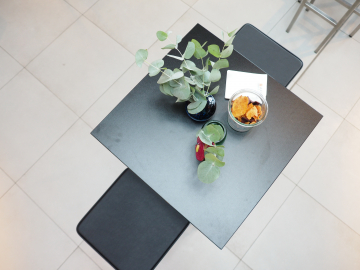 Another important aspect for the longevity of a product is its ability to be repaired. The EVENTWIDE sales system is designed in such a way that our partners can easily replace all wear parts on site.
A key design feature of our standing and dining tables is that, thanks to their high-quality surfaces, they do not require any table linen. The surfaces of our furniture can be easily wiped with a damp cloth. This simplifies cleaning during ongoing events and saves the time-consuming, resource-intensive washing of textiles.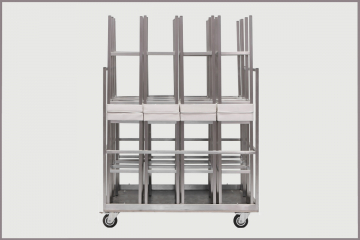 Almost all EVENTWIDE furniture types have specially manufactured transport trolleys that are precisely tailored to the respective product. On one hand, this safes time. On the other hand, it safes resources because there is no additional packaging material necessary.
We are in constant contact with our partners in order to further improve the sustainability of the transport and delivery processes. In order to avoid unnecessary transport routes, the furniture for an event is provided by the nearest franchise partner in the region.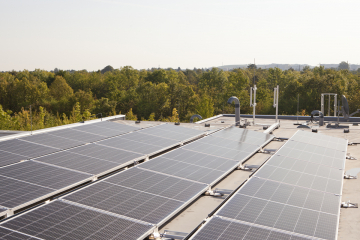 • SUSTAINABILITY in the EVENTWIDE INTERNATIONAL HEADOFFICE
The EVENTWIDE head office in Vienna is largely energy self-sufficient in accordance with the latest technology. A photovoltaic system with an output of 30 kWp was installed on the roof. With the help of additional storage batteries (20 kWh), this system completely covers our electricity needs.
The roof area that is not used to generate electricity has been greened.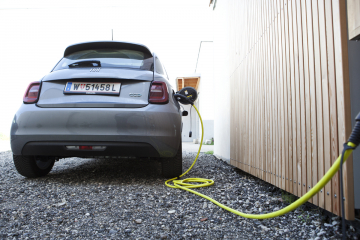 Our company car is an electrically operated Fiat 500e. The electricity required for refueling is also covered by our photovoltaic system.
The heating or cooling of our premises is carried out with a water-water heat pump fed from our own well on the company premises, one of the most sustainable options for room temperature control.
In addition, when building the new company headquarters, we made sure to keep the soil sealing as low as possible.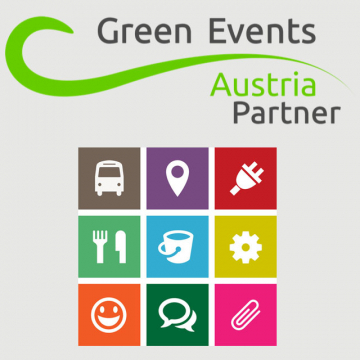 • EVENTWIDE AUSTRIA is GREEN EVENTS AUSTRIA PARTNER
The criteria for green events and further information on the federal initiative and the regional programs of the federal states can be found on greeneventsaustria.at – which is hosted on the website of the BMK (Federal Ministry for Climate Protection, Environment, Energy, Mobility, Innovation and Technology).
On the online platform Infothek Green Events
find more partners for sustainable
Event organization!